Novels, Society and History | Notes
Novels, Society and History
---
Novel Writing in Europe
---
A novel is a modern form of literature. Novels along with several forms of writing flooded the markets of Europe by the late eighteenth century. Novels soon became very popular in Europe and in other parts of the world. People belonging to the middle class developed a new interest in reading novels. Apart from just detailed storytelling, novels were also based on folklore or ballads. Walter Scot used Scottish ballads to describe wars among the various Scottish tribes.
The Publishing Market
Novels were not cheap initially. Some volumes of novels such as Tom Jones written by Henry Fielding were priced at three shillings, which was more than what a worker earned in a week.
It was after the introduction of circulating libraries in 1740 and several technological innovations that books and novels became cheap.
In villages, where people could not read, people often gathered at a place and listened to the story line of the novel from an educated person.
In 1836, Pickwick Papers written by Charles Dickens were serialised in a magazine. This was notable even of the time as people read, discussed and waited for the unfolding of the suspense sequence of the novel every day.
Novels – The Reflection of Society
Novels were the reflection of society. The Industrial Revolution was the main feature of nineteenth-century Europe. As industries were established and the profits of industrialists grew, the condition of the working class deteriorated.
Charles Dickens wrote about the effects of industrialisation in his novel Hard Times. He emphasised how workers were reduced as merely instruments of production.
In Oliver Twist, Dickens gave a vivid description of the tale of children who lived in workhouses and the challenges which they had to face. In his novel, Oliver is adopted by a wealthy man and lives happily thereafter.
Emile Zola in her novel Germinal wrote about the pathetic condition of the mine workers in France.
The British novelist Thomas Hardy wrote about traditional rural communities of England which were breaking down as farmers were now more interested in producing for the markets. In his novel Mayor of Casterbridge, he grieved at the sight of the loss of the personalised world.

Oliver Twist by Charles Dickens showed the living conditions of children in workhouses
Women and Novels
Middle class women in the eighteenth century began to read novels during their leisure time. Women novelists also sketched women as main characters in many novels.
Jane Austin wrote Pride and Prejudice in which the women characters are interested in finding prospective and rich grooms for themselves.
In Charlotte Bronte's novel, Jane Eyre, published in 1847, the young character Jane is shown depicted as a powerful and dominant woman. She disapproves of the hypocritical attitude of her elders.
George Elliot was a popular novelist who believed that novels gave women an opportunity to express themselves.

Jane Austin wrote the famous novel Pride and Prejudice
Novels for the Younger Generation
Novels written during this time sketched young boys as powerful and assertive men. The novels Treasure Island by Stevenson and Jungle Book by Rudyard Kipling dealt with the civilising mission of colonisers.
The adventurous novels of G. A. Henty dealt with the excitement of young boys when they capture strange lands. The novels also celebrated the colonial rule of Britain.
Love stories were also written during this period for young women. Ramona by H. H. Jackson and What Katy Did by S. C. Woolsey which had adolescent girls as main characters became popular during this period.
Novels in India
---
Modern novels developed in India in the nineteenth century. Some earliest novels were written in vernacular languages such as Marathi, Bengali and Tamil. Translation of novels into various regional languages made them very popular with literate Indians.
Novels in South India
Novels began to appear in South Indian languages during the colonial period. Oyyarathu Chandu Menon wrote a delightful novel named Indulekha in 1889. It was the first modern novel in Malayalam.
In Andhra Pradesh, K. Veeresalingam wrote Rajasekhara Caritamu in Telegu.
Indirabai was a Kannada novel written by Gulavadi Venkata Rao in 1899. It shed light on the deplorable condition of women in Indian society.

K. Veeresalingam
Novels in Hindi
The first proper modern novel in Hindi was Pariksha-Guru published in 1882. It was written by Srinivas Das. The novel dealt with the effects of bad company on middle class youth.
Devaki Nandan Khatri wrote a bestseller novel, Chandrakanta. The novel became an instant hit and popularised the Hindi language. It was a romantic novel based on fantasies.
Premchand was the greatest Hindi novelist of all times. He wrote novels such as Sewasadan, Rangbhoomi and Godan He raised many social issues such as child marriage and dowry.

Bankim Chandra Chattopadhyay
Novels in Bengal
In Bengal, novels came to be written on two themes—love stories and contemporary setting outlining domestic and social issues.
Novels in Bengal were either read individually or before huge gatherings of people.
Bankim Chandra Chattopadhyay was an influential Bengali novelist. His first novel Durgeshnandani gained popularity in Bengal. In this novel, he adopted a new style of writing prose which had both Sanskritised and vernacular words.
Later, Sarat Chandra Chattopadhyay became a famous writer not only in Bengal but all over India because of the use of simple language in his novels.
Novels during the Colonial Period
Novels were an important source of information to the British as it shed light on the life, customs and religious practices of the native population.
For Indians, novels were a means through which they criticised various evils which existed in society.
Novels also helped the people in creating a relationship with the past. Many novelists glorified the Indian past and created a sense of pride among the people.
Novels also created the images of ideal heroes and heroines which were admired by the general people. Chandu Menon in his novel Indulekha portrayed the heroine of his novel as an educated and intellectual person with artistic abilities. The hero was also shown in the same light. The main characters of this novel lived in the modern world, adopted modern lifestyles but still followed traditional values and ethos.
Novels in India became very popular and became an important and a new source of entertainment. In Tamil Nadu, there was so much demand for detective and mystery novels that they had to be reprinted several times.
Women and Novels
Sometimes, novels were seen as a medium which could corrupt young children and women. However, women read and began to write novels.
Many women in south India began to write novels. Writing novels gave them an opportunity to portray woman in a completely different light.
Rokeya Hossein was a reformer who favoured the education of women in India. She wrote Sultana Dreams in 1905. This novel was based on fantasy as it showed the world where women take the place of men. She also wrote Padmarag in which she stressed that women themselves have to work to improve their position in society.

Rokeya S. Hossein
Novels on Lower Castes and Minorities
Indulekha by Chandu Menon also shed light on the tricks which were used by the landlords on cheating the common people.
Potheri Kunjambu, belonging to the lower caste, wrote a novel Saraswativijayam in 1892. In this novel, he shows the high handedness of an upper caste landlord. The hero of the novel leaves the village, becomes a Christian, obtains modern education and returns to his village to inspire the people.
Advaita Malla Burman wrote Titash Ekti Nadir Naam in 1956 in Bengali. This novel depicted the lives of the Mallas, a people belonging to the lower caste.
Vaikkom Muhammad Basheer was a Muslim novelist who gained popularity for his novels written in Malayalam.
The Nation and its History
The British painted a grim and sad picture of Indians in their writings. They considered the natives as uncivilised, illiterate, weak and divided. Indian novelists wrote many novels which countered this view of British writers.
In Bengal, many novels were written about the Marathas and the Rajputs. Bhudev Mukhopadhyay wrote Anguriya Binimoy in 1857. The novel depicted the life and battle of Shivaji against the Mughals. Shivaji was painted as a Hindu who was fighting against the unjust rule of the Mughals.
Anandamath of Bankim Chandra tells the story of a secret Hindu militia which fights against the Muslims to establish a Hindu kingdom. This novel inspired freedom fighters to fight against the unjust rule of the British.
Premchand's novels had powerful figures which belonged to every strata of society. His novels had landlords, Brahmins, peasants and lower caste people. Women were strong characters in his novels.
Premchand's novels did not look into past but outlined the existing social evils. In Rangbhoomi, the hero of the novel belongs to the untouchable caste and sees a lot of injustices happening around him.
Godan published in 1936 is one of the best works of Premchand. It sheds light on the lives of peasants who have to deal with the exploitative policies of landlords, moneylenders and colonial bureaucrats.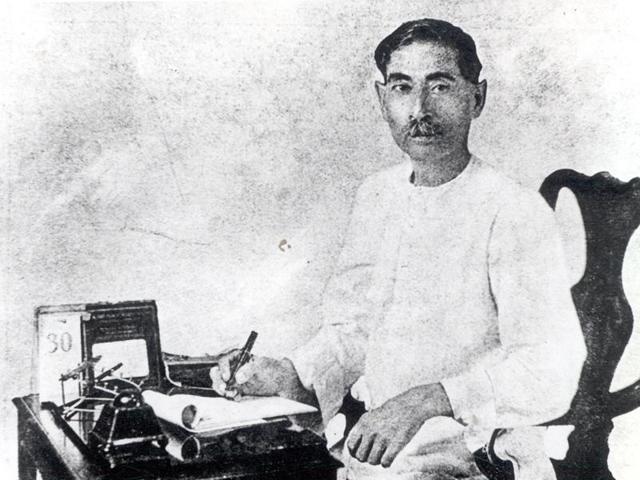 Premchand is considered one of the best Hindi writers of all time
Thus, we find that the novels during this period highlighted the evils in society, glorified the past, stressed on maintaining traditional identity and painted women as strong characters. The novelists impacted a large number of people through their writings and instilled the feeling of nationalism among the masses.